Whole grains just like beans recquire a little pre-thought; mostly just for cooking time (30-40 minutes), though some do recquire soaking overnight. So, just like beans you can cook them ahead and package them for the freezer making them ready on demand.  Rice, wheat, and barley are just a few that you might want to have on hand.
Today, I want to share a grain mixture that I know you will love. I got this idea several years ago and cannot take credit for it. You have heard of Kashi, The Seven Whole Grain Company. Kashi came out with an entree that included their 7 whole grain recipe with a topping like Southwest Style Chicken. I then realized I could do this at home.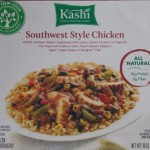 To prepare this grain mixture you will need a very large bowl.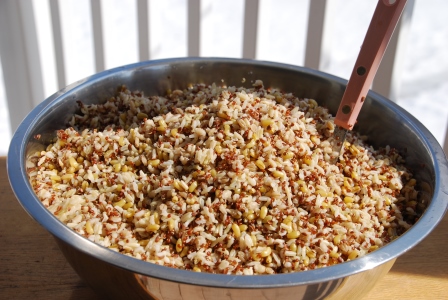 Ingredients
4  cups brown Rice
2  cups Kamut
1  cups red Quinoa
2  cups Barley
1  cup Flax seed
Directions
Soak Kamut overnight in water.  When ready, rinse, place in medium sauce pan,  cover with water,  and cook at medium heat until tender (about 40 minutes).
In individual pans cook brown rice, red Quinoa, and barley according to instructions.
Tip:  When I am cooking a batch of grains I have learned that they each have different cooking times.  I will start them all at once and they each finish in succession keeping me busy through out the process.
When cooked, drain and cool.  As grain is finished cooling add it to your large bowl.  When all cooked grains are in the bowl add the Flax seed and mix thoroughly.
Now it is time to package the 5 Grains for freezing.  There are many options.  For this post I have used freezer bags that will seal on my 
FoodSaver
.
You may also use 
Ziploc freezer bags
.  Make sure to remove as much air as possible; gently press grains to bottom of bag, roll the grains to the top squeezing out all the air, and seal.  You can then press the grains out flat so that they will stack easily in the freezer.  For extra protection you may put these smaller bags into a larger bag and seal again.
Place the desired amount of grains in the container of your choice.  I measure two cups for each bag.  My yield for this recipe was 20 bags.  This translates to 40 lunches or 20 meals for my family.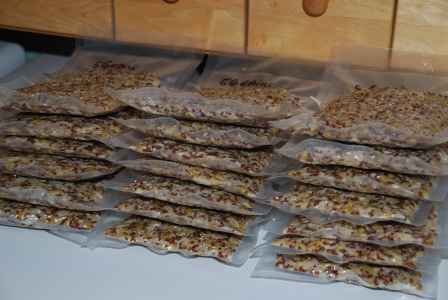 Mark your containers well.  You may want to write the name of the grain or mixture of grains and the date.
Store in freezer until ready to use.
The conveinence of ready on demand grains and this 5 Grain recipe will make the extra effort of pre-cooking them well worth it.
Sources for Whole Grains
Bob's Red Mill
, local health food store, grocery store, ethnic/ Asian market are all great places to find whole grains.  Experiment and try new grains and different mixtures that best meet your taste preferences.
Using your 5 Grain mixture 
A nutritious lunch or meal is just minutes away, literally.  Simply remove a package of grain from the freezer, place desired amount on a plate, and add any topping you wish.  It can be leftovers or freshly made stir-fry.  Heat in the microwave and enjoy!
This post has joined the following linky parties: Show and Tell Saturdays, Simply Natural Saturdays, and Savoring Saturdays.
2 Responses to Whole Grains