Strawberry Rhubarb Sauce~
The orange in this rhubarb sauce is a pleasant surprise to the taste. It is very user friendly and can be frozen until needed. A great way to prolong the tastes of summer.
Ingredients
2 apples*, peeled, cored & chopped
2 cups sugar
3½ cups rhubarb*, chopped
2 cups(1 pint) strawberries*, whole or sliced
1 orange*, juiced
1 tablespoon orange zest
Topping:
¾ cup strawberries*, sliced
¼ cup walnuts
1 can whipped cream*
Instructions
In large sauce pan add all ingredients and bring to a boil on medium heat, stirring frequently. Once boiling, turn heat to low and continue cooking until fruit is soft and has a sauce consistency, approximately ½ hour. You can quicken the time by using an immersion blender.
Sauce will thicken slightly as it cools. Chill before serving.
Serve over biscuits, pound cake, sweet bread, yogurt or ice cream and top with freshly sliced strawberries, walnuts and whipped cream.
This recipe has joined the following link ups:Homemade Mondays and Turn it up Tuesdays.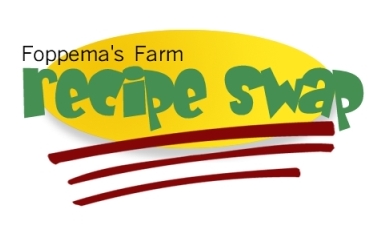 Welcome to our Recipe Swap.  You will find us swapping recipes every Monday with bloggers who link up to share their recipes with you.  To view these recipes simply click on the photo of the recipe you wish to see and enjoy.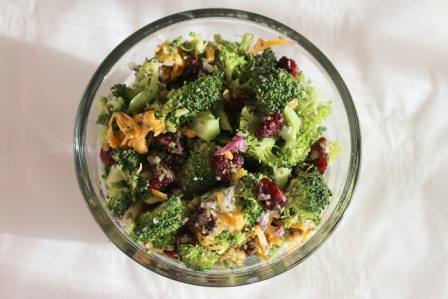 Last week we had some great recipes shared on the Recipe Swap.  Our Featured (most viewed)Recipe was the Broccoli Salad submitted by Jenn's Random Scraps.  Thank you Jenn for sharing your recipe at the Recipe Swap.
Here is how to link up.
Scroll down, find the little blue "Add your Link" Button and click on that.
Follow the instructions on the next page – add an image of your recipe and a title. Make sure you link to the direct page of your recipe post – not the main page of your blog!
Recipe and or food preservation related posts only please with an emphasis on farm fresh ingredients.
You do not need to like us on Facebook, add a comment or even add a link from your post to our site, but of course you are welcome to.
Thank you for sharing your recipe here at the Foppema's Farm Recipe Swap.
7 Responses to Recipe Swap 6|1