No fancy equipment is required to make your own fresh sprouts.  A simple canning jar with a plastic canvas lid, will do.  It also makes sprouting almost effortless.  You will be ready to start in 5 minutes or less.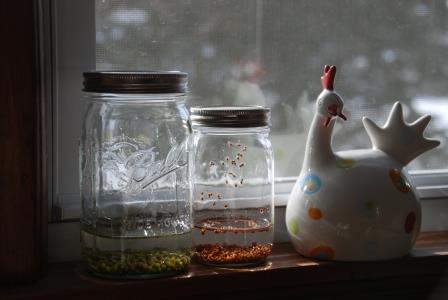 How to make your own sprouter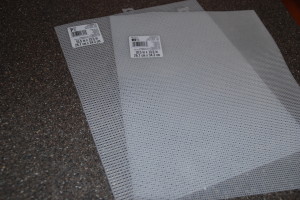 First, you will need a canning jar, a lid and plastic canvas.  I prefer size 7, but also have available size 10 for very small seeds.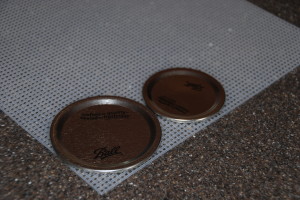 Cut the canvas to the size of the sealing part of the lid.
Replace the metal lid with the canvas.  You are now officially equipped with all the tools needed to make sprouts.
Sprouting 101
Sprouts do best at about 70 degrees.  They prefer indirect light and a moist, but not wet environment.
It takes just 3-5 days to complete a batch of sprouts.
Sprouts should be made with food grade seeds.  These can be purchased over the Internet or at your local healthfood store. Asian markets are also a good resource.
To begin sprouts,  simply place the desired quantity of seed into your jar and add water; soak overnight.
In the morning,  drain off extra water and rinse with clean water.  Here is why the plastic canvas makes it effortless.  No need to unscrew the cap, just add and release water through the plastic canvas.  It is just that simple!
Sprouts should be rinsed at least twice a day.  Several times a day is even better, so put them in a handy place, like the window sill above the sink.  Lay jar on its side to allow room for the seeds to grow.
In 3-5 days your sprouts will be ready to enjoy.  Rinse and place in fridge until ready to use.  They should store well in the fridge for 5 days, rinsing once a day.
A very small amount of seed is needed to make a great quantity of sprouts.  This guide will help you get started.
1  tablespoon alfalfa = 1 1/4 cups sprouts
1  tablespoon amaranth = 3/4 cup sprouts
3  tablespoons anise = 1 cup sprouts
1/2  cup barley = 1 cup sprouts
1  cup beans (all kinds) = 4 cups sprouts
1/4  cup buckwheat = 3/4 cup sprouts
1  tablespoon chai = 1 3/4 cups sprouts
1 1/2 tablespoons clover = 4 cups sprouts
1  cup corn = 2 cups sprouts
1  tablespoon cress = 1 1/2 cups sprouts
1/4  cup feugreek = 1 cup sprouts
2  tablespoons flax seed =1 1/2 cups sprouts
1/4 cup garbanzos = 3/4 cup sprouts
1 tablespoon lentils = 1 1/2 cups sprouts
1  cup millet = 2 cups sprouts
1  tablespoon mung beans =3/4 cup sprouts
1  tablespoon mustard = 1 1/2 cups sprouts
1  cup oats = 2 cups sprouts
1 1/2  cups peas = 2 cups sprouts
1 cup pumpkin = 2 cups sprouts
1  tablespoon radish = 1 cup sprouts
1  cup rice =2 1/2 cups sprouts
1 cup sesame – 1 1/2 cups sprouts
1  tablespoon soybeans = 1/4 cup sprouts
1  tablespoon sunflower = 1/4 cup sprouts
1  tablespoon wheat = 1/4 cup sprouts
Resource:
Home Food Systems, Rodale Press, Emmaus, PA  1981
"As I see it, a green salad is an open invitation to carrots, onions, mushrooms, tomatoes, and the sprouts that grow in the jar on my kitchen counter."
Victoria Moran