Spicy Stir Fried Cucumbers~
Yes, cook those cucumbers! In Asia, they believe that cucumbers are cold, to make them warm they are cooked with hot peppers and other spices to create a flavorful spicy dish.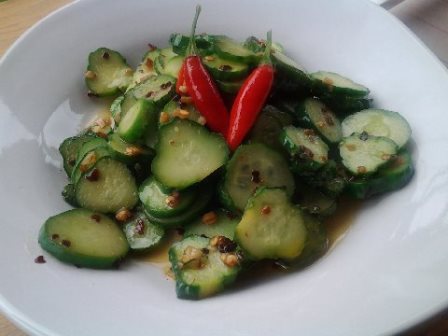 Ingredients
4 cucumbers*, small, sliced (young sweet cucumbers work best)
2 chili peppers*, sliced on one side
4 tablespoons oil, sesame
1 teaspoon crushed red pepper*
2 cloves of garlic*, chopped finely or crushed
Instructions
Place oil in skillet, frying pan or wok and heat. Add garlic, chilis, and crushed red pepper and stir fry for a minute mixing well; add cucumbers and continue cooking for approximately 5 minutes, gently tossing the cucumbers in oil. Cucumbers should be bright colored and just a little crispy. Do not over cook.
Serve warm.