Spaghetti Squash~
This squash is delicious and versatile. Use it in pies, soup, as a spaghetti substitute, or let it stand alone as a side dish. It is simple to prepare and will compliment and recipe or dish.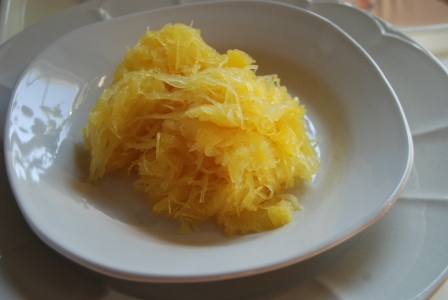 Instructions
Place medium size pan with water on stove to boil.
Cut squash in half and remove seeds.

When water is at a full boil, add the two halves of squash and cook for approximately 30 minutes (until tender). Remove from water and let cool in a colander with the cut side down to drain off extra water.
When cooled, use a fork to scrape out the inside.
You will notice it has a stringy, spaghetti like appearance.

Serve topped with your favorite spaghetti or Alfredo sauce, stir-fried veggies, meat gravy, or just eat it plain with butter, salt and pepper.