Ruby Red Beet & Apple Salad~
This is the perfect Summer to Fall salad bringing together several vegetables and sweet to tart apples. Its unique curry flavor gives it the allure of India.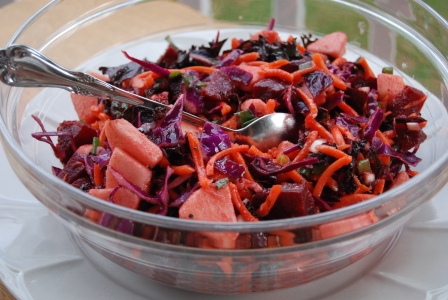 Author:
Kathy Rairigh Milford, Indiana Taste of Home October/ November 2012
Ingredients
2½ pounds beets*, ( 8 medium)
2 apples*, peeled, chopped
1 cup kale*, fresh, chopped
1 cup red cabbage*, chopped
1 cup carrots*, shredded
½ cup onion*, chopped
½ cup cider vinegar
⅓ cup olive oil
2 tablespoons honey*
1 teaspoon salt
¾ teaspoons curry*
⅛ ground ginger*
⅛ teaspoon garlic powder*
⅛ teaspoon pepper*
Instructions
Clean beets, place in pan and cover with water. Bring to boil. Reduce heat; simmer, covered until tender. Remove from water and cool.
Peel beets and cut into ½" cubes. In large bowl, combine apples, kale, cabbage, carrots, onion and beets.
In small bowl, whisk the remaining ingredients. Pour over salad; toss well. Refrigerate, covered for about 4 hours and toss again before serving.