Sunshine Carrots~
Carrots dressed in a light orange and ginger sauce, how delicious! Easy to prepare and a great way to change up the vegetable selection for dinner.
Ingredients
5 carrots*, medium size, cut crosswise on bias into 1" chunks
1 tablespoon sugar
1 teaspoon cornstarch
¼ teaspoon salt
¼ teaspoon ground ginger*
¼ cup orange juice
2 tablespoons butter*
Instructions
Cook carrots covered, in boiling salted water until just tender or 20 minutes; drain.
In small saucepan combine sugar, cornstarch, salt, ginger and orange juice and cook at medium heat, stirring constantly until mixture thickens and bubbles. Let boil for 1 minute and add butter.
Pour over carrots, tossing and coating evenly.
We Have a Winner

Congratulations, Carol E from CA.  Carol is the winner of  FARM-FRESH and FAST easy recipes and tips for making the most of fresh seasonal foods, by Fairshare CSA Coalition.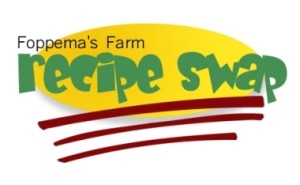 Welcome to our Recipe Swap.  You will find us swapping recipes every Monday with bloggers who link up to share their recipes with you.  To view these recipes simply click on the photo of the recipe you wish to see and enjoy.
Feature Recipe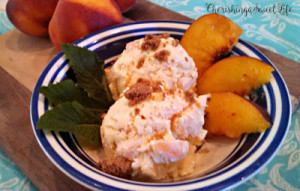 Peach Cobbler Ice Cream
Last week we had some great recipes shared on the Recipe Swap.  Our Feature (most viewed) Recipe is the Peach Cobbler Ice Cream submitted by Christy Renee at Cherishing the Sweet Life .  Thank you,  Christy for sharing your recipe at the Recipe Swap.
Here is how to Link up.
Scroll down, find the little blue "Add your Link" Button and click on that.
Follow the instructions on the next page – add an image of your recipe and a title. Make sure you link to the direct page of your recipe post – not the main page of your blog!
Recipe and or food preservation related posts only please with an emphasis on farm fresh ingredients.
You do not need to like us on Facebook, add a comment or even add a link from your post to our site, but of course you are welcome to.
Thank you for sharing your recipe here at the Foppema's Farm Recipe Swap.
One Response to Recipe Swap 7|24