Preparing pumpkin and squash for making desserts~
It is easy to prepare vegetables for use in desserts.  Prepare squash and sweet potatoes the same as you would pumpkin and never use canned again.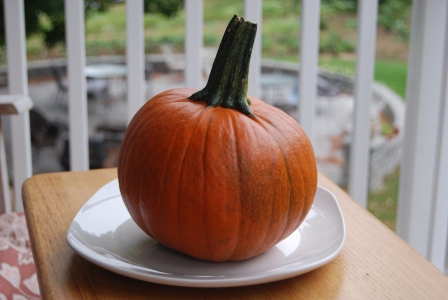 Here we have a 4 1/4 pound pumpkin.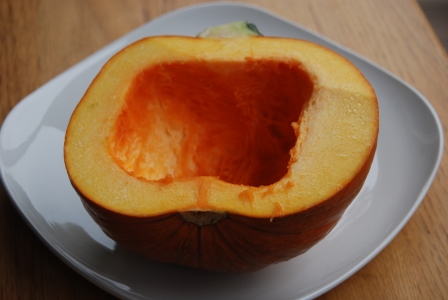 Slice the pumpkin in half and remove seeds.
Cook  in microwave oven until tender, approximately 15 minutes, per half.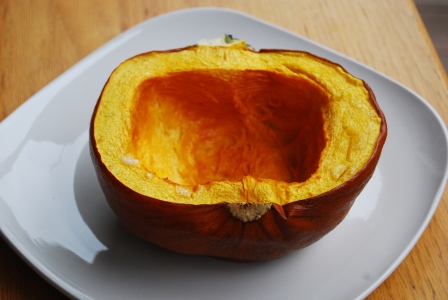 Remove from oven and let cool.
With fork or large spoon scoop out the meat of the pumpkin.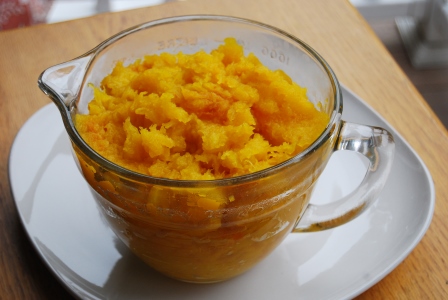 Pumpkin can be used right away or stored in the refrigerator for  4-5  days.  This 4 1/4 pound pumpkin yielded 4 1/2 cups of cooked pumpkin.
When ready to use simply puree in your blender to make it smooth.
Welcome to our Recipe Swap.  You will find us swapping recipes every Monday with bloggers who link up to share their recipes with you.  To view these recipes simply click on the photo of the recipe you wish to see and enjoy.
Last week we had some great recipes shared on the Recipe Swap.  Our Feature (most viewed) Recipe of all the recipes was the Apple Pie Quick Bread submitted by Rebecca at Strength & Sunshine. Thank you,  Rebecca for sharing your recipe at the Recipe Swap.
Here is how to Link up.
Scroll down, find the little blue "Add your Link" Button and click on that.
Follow the instructions on the next page – add an image of your recipe and a title. Make sure you link to the direct page of your recipe post – not the main page of your blog!
Recipe and or food preservation related posts only please with an emphasis on farm fresh ingredients.
You do not need to like us on Facebook, add a comment or even add a link from your post to our site, but of course you are welcome to do so.
Thank you for sharing your recipe(s) here at the Foppema's Farm Recipe Swap.