Peach Enchiladas~
This recipe with its strange ingredients cooks up to be a winner. You can even change out the peaches if you wish for apples or pears. No matter, it's a winner.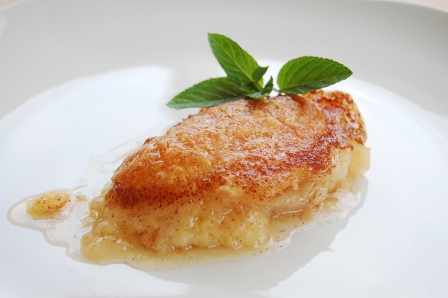 Author:
Hettie Wilkerson Southern Living May 2011
Ingredients
2 (8 ounce) cans cresent rolls
2 pounds peaches*, fresh, ripe, peeled and quartered
1½ cups sugar
1 cup butter*, melted
1 teaspoon cinnamon*
1 (12 ounce) can citrus flavored soft drink* (ie Mountain Dew)
2 tablespoons maple syrup*
Instructions
Preheat oven to 350º
Unroll cresent rolls and seperate into triangles. Place 1 peach quarter on wide end of each triangle and roll starting at wide end. Place point sides down and place in greased 13' X 9" pan.
Mix sugar, butter and cinnamon; drizzle over rolls.
Pour soft drink over rolls.
Bake for 45 minutes or until golden brown and bubbly.
The Enchiladas will appear liquidy when you first take them out of the oven; this thickens as it cools.
Create a new recipe as follows:
To make apple or pear enchiladas simply replace the peaches with quartered apples or pears.