Onion Soup
There are two key elements to a really good onion soup; lots of carmelized onions and a really good beef broth. The rest; cheese, wine and toast are complimentary.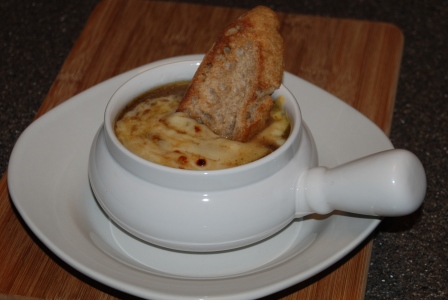 Ingredients
1 loaf, French or Italian type bread
6 onions*, sliced thin, carmelized
4 tablespoons butter*
1 pound beef, any cut with bones included
1 quart applesauce
2 quarts water
8 teaspoons Mrs Miller's* beef flavored soup base
1 bay leaf*
1 teaspoon thyme*
1 clove garlic*
½ teaspoon paprika*
¼ pound Swiss cheese
Instructions
In a crock pot or covered pan add beef, applesauce and water. If you are using the crock pot turn on high and let cook until you are ready to prepare soup later in the day. In covered pan, place on smallest burner at low to simmer for several hours. You want to cook the beef until it is tender and easily breaks into small peices.
Approximately 45 minutes before you wish to have your soup ready, thinly slice onions, stem to root. In a skillet or wok, add butter and onions and cook at low to medium heat until fully carmelized (brown). This will take about 30 minutes or more.
Put beef and broth in a large sauce pan. Using a fork break up meat into tiny peices and remove bones; add soup base,bay leaf, thyme, garlic, and paprika. Bring to a boil, cover and turn to low until onions are ready.
Add carmelized onions to broth, stir well and remove from heat.
Cut bread on an angle to make long slices and toast. The toaster works fine.
Laddle soup into individual bowls and top with cheese. Place bowls on a cookie sheet and broil in the oven until the cheese bubbles and becomes slightly golden.
Remove from oven.
With a knife gentle move cheese to the side and place toasted bread into the soup leaving some to show.
Ready to serve.
Traditionally, Gruyere, a Swiss cheese is used for Onion Soup.  I used plain Swiss because it was cost effective.  However, in researching recipes for onion soup I found that the cheeses used were very diverse and included Parmessian, Cheddar, Assiago, and Mozzarella.  So feel free to exchange the cheese according to your preferences.
Most Onion Soups included some sort of wine.  In this recipe, I used applesauce but you might consider Vermouth, white wine, red wine, or a Chardennay.  Simply exclude the applesauce and exchange for wine.
Also, Onion soup is usually onions with broth, but I have left in little bits of beef because this onion soup will serve as a meal for my family.  If you are serving it as an appetizer you may want to remove the meat, and put it aside for another recipe.
I have left the bread half exposed, but some people like to totally submerse the bread and put the cheese on top of the bread before broiling.