No Crust Apple Pie~
This recipe is quick, easy and great for bringing to the family get together or church picnic. It can easily be doubled, tripled or quadrupled to fill a large baking pan.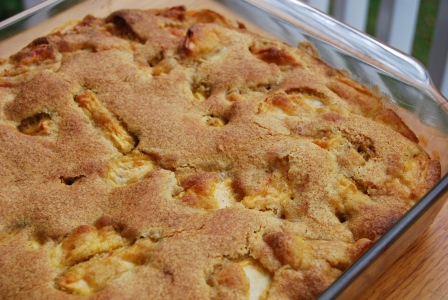 Author:
Keepers at Home Sampler, Seven
Ingredients
1 egg
½ cup white sugar
½ cup flour
1 teaspoon baking powder
pinch of salt
2 medium apples, peeled, cored, sliced
½ cup nuts, your choice
Instructions
Preheat oven to 350°
Beat egg, then add rest of ingredients.
Mix well and spread in a greased 9" pie plate. Bake for 30 minutes. Serve with ice cream or whipped topping.
This recipe can be doubled, tripled and quadrupled to fill a large baking pan using this same mixing method.
When baking, look for a golden brown top and a hollow sound when tapped with your finger. You may also use a toothpick to poke through the middle. If it comes out dry you know it is finished.
You can also use peaches, pears and berries instead of apples. Just exchange equally.
In the photo for this recipe a large baking pan was used and the recipe was x6 to fill.