Haitian Style Mixed Vegetables~
While traveling to the Dominican Republic and throughout Haiti these last few weeks I kept an eye open for recipes that I could share with Foppema's Farm blog readers. I chose this recipe because it was a new take for serving up pretty ordinary vegetables, but also it is the perfect remedy for those times when you don't have a lot of any particulr vegetable, but rather one of this and one of that.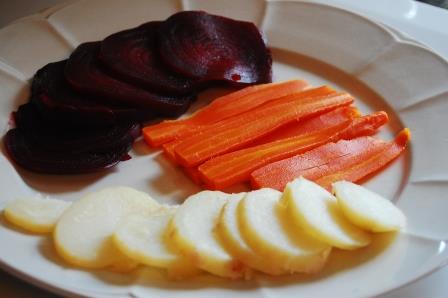 Ingredients
1 beet*
3 carrots*
1 potato*
Instructions
Wash and rinse thouroughly carrots, beet and potato leaving greens and skins intack.
Place in large pan (greens and all), cover with water and bring to boil. Once the water comes to a boil turn burner to low and let simmer for approximately 1 to 1½ hours depending on the size of the vegetables. To check, simply insert fork. When tender they are finished.
Remove vegetables. To skin, simply rinse under cool water and rub gently. You may want to place beet on a paper towel as it will begin to release it's red color.
When cooled, slice thinly and fan out on dish. Vegetables are ready to serve.
It is very important not to cut the beet or remove the greens as this will cause the beet to turn everything pink.  Though the water will still turn a little red you will see that the carrots and potato are unaffected.
This post can also be found at the following linky parties: Homestead Barn Hop, Homemade Mondays, Mama Moments Mondays, Meandering Mondays, Nomday Monday and Sunday Best.
One Response to Haitian Style Mixed Vegetables