Greek Salad~
This recipe contains a medley of olives not just your standard Kalamata black. It is reminiscent of the olive dip and olive bread served at Greek restaurants.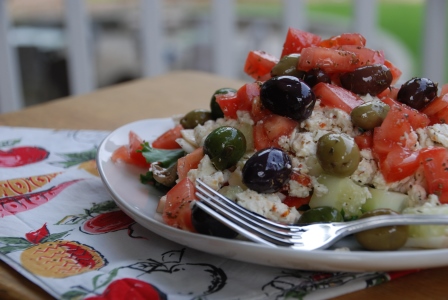 Ingredients
2 tablespoons olive oil
2 tablespoons red wine vinegar
¼ pound olive medley (available at Stop and Shop)
1 pinch oregano*
1 garlic*, small clove
1 tomato*
4 ounces Feta cheese
⅓ cucumber*, large
¼ apple*
⅛ cup red pepper*, diced
3 slices purple onion*
1 large pinch of lettuce
Instructions
In wide mouthed canning jar add oil, vinegar, and olive medley. Then add oregano, garlic, tomato, Feta cheese, cucumber, apple, red pepper, onion, and large pinch of lettuce. Cover and store in refrigerator.
To serve, simply empty contents of canning jar onto a plate or into a bowl. Top with olive oil or your favorite dressing and a side of Pita or artisan bread.
This post can also be found at the following Linky parties:
 Homemaking link-up
,
Gluten Free Wednesday
,
The Backyard Farming Connection
,
Tuesdays with a Twist
, and
The Maple Hill Hop
.
One Response to Greek Salad