Eggplant Lasagna~
This eggplant lasagna is packed with traditional Italian flavors. Sausage, Ricotta and fennel seed make it so delicious you'll definitely want to make enough for left-overs.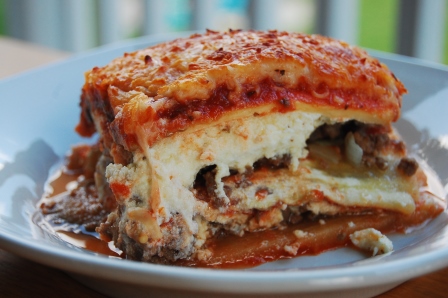 Ingredients
5-6 long thin eggplant*, approximately 2 pounds
1 pound ground beef
1 pound hot Italian sausage
1 large onion*, chopped
3 cloves garlic*, chopped
1 teaspoon fennel seed*
32 ounce Ricotta cheese
2 eggs*
1 cup Parmesan cheese, shredded
1 teaspoon Oregano*
1-16 ounce Mozzarella*, shredded
2 -24 ounce jars Prego Fresh Mushroom Italian sauce
Instructions
Preheat oven to 350°
Prepare eggplant: Slice to ¼ inches thick, the length of the fruit. The idea is for it to resemble lasagna noodles. Place on greased cookie sheet(s) and bake for approximately 20 minutes or until tender.
In a large skillet, brown onions, garlic, ground beef and sausage. Sausage should be cut into ¼ inch slices or removed from casing. When cooked, mix in Fennel seed and remove from heat.
In a mixing bowl, add Ricotta, Parmesan, eggs and Oregano and mix well.
Grease a 3 quart baking dish. At the bottom add a layer of Prego Fresh Mushroom sauce and a layer of eggplant slices (they should touch each other and cover end to end).
Next, add a layer of the meat mixture, then the Ricotta. Smooth Ricotta evenly across the pan with a rubber spatula; repeat layers starting with sauce. Finish with Mozzarella on the top.
Cover with foil that has been lightly sprayed with cooking spray to prevent it from sticking to the cheese. Cook for 45 minutes, then remove foil and cook until top is darkened to your liking (approximately 15 minutes).
Note: You may have extra sauce when you have finished layering. Prego can sometimes be found in a slightly larger jar than the 24 ounce and this would be a perfect amount.
Welcome to our Recipe Swap.  You will find us swapping recipes every Monday with bloggers who link up to share their recipes with you.  To view these recipes simply click on the photo of the recipe you wish to see and enjoy.
Last week we had some great recipes shared on the Recipe Swap.  Our Feature (most viewed) Recipe is the Basil and Bean Spread submitted by Michelle at Grammie Time.  Thank you,  Michelle for sharing your recipe at the Recipe Swap.
Here is how to Link up.
Scroll down, find the little blue "Add your Link" Button and click on that.
Follow the instructions on the next page – add an image of your recipe and a title. Make sure you link to the direct page of your recipe post – not the main page of your blog!
Recipe and or food preservation related posts only please with an emphasis on farm fresh ingredients.
You do not need to like us on Facebook, add a comment or even add a link from your post to our site, but of course you are welcome to do so.
Thank you for sharing your recipe(s) here at the Foppema's Farm Recipe Swap.
13 Responses to Recipe Swap 8|24