Beans are such an asset to the cooking repertoire, adding color, protien and fiber without excess calories.  They are also very inexpensive when purchased dried.  However, dried beans recquire some pre-thought as they need to be soaked and have adequate cooking time.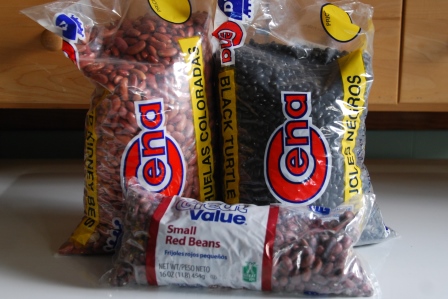 No more buying dried beans and having them sit in your cupboard waiting for the day you remember to get them soaking a day ahead.  Todays post is about making dried beans ready on demand.  Imagine finding a recipe or even thinking of one on your own that includes beans, and all you need to do is reach into the freezer and take what you need.
For this post I am cooking Black Turtle Beans and Red Kidney Beans. My yeild from a 4 pound bag of each was 15- 2 cup bags of Kidney Beans and 12- 2 cup bags of Black Turtle Beans.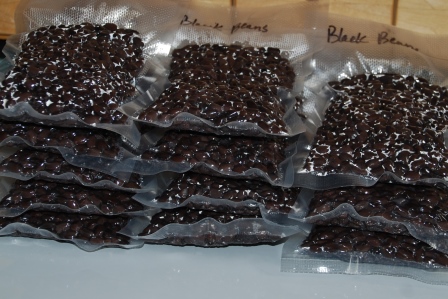 Cooking Beans
The night before, put the dried beans in a pan or bowl that will allow you to add the same quantity of water as beans and soak them overnight.  Soaking takes away some of the components that cause gas and allows the beans to cook quicker and more evenly.  An exception to soaking may be if you are adding them to soup that will cook for a few hours at a low temperature.
When ready to cook, drain the water and rinse.  Place beans in a large enough pan to cover with water and allow boiling without spilling.
Put pan on medium heat and cook.  Beans have individual cooking times.  See the list at About.com.  Most beans cook for 1-2 hours.
To check your beans to see if they are ready you can do a simple pinch test.  When the bean is fully cooked you can pinch it with your fingers and it will mash easily like a baked potato.  It will have the same consistency.
When beans are fully cooked, strain and let cool.  Tip:  Use a large towel to pour the strained beans on.  They will cool in just a few minutes.  You may want to have large kitchen towels just for this purpose.  They will come in handy for other things as well.
Now it is time to package the beans for freezing.  There are many options.  For this post I have used freezer bags that will seal on my FoodSaver.  But there are other options as well.  Some of my favorites:
8 oz Clear Deli Container
16 oz Clear Deli Container
These conatiners should not be frozen at temperatures below 0° and should not be used with dry ice.
You may also use Ziploc freezer bags.  Make sure to remove as much air as possible; gently press beans to bottom of bag, roll the beans to the top squeezing out all the air, and seal.  You can then press the beans out flat so that they will stack easily in the freezer.  For extra protection you may put these smaller bags into a larger bag and seal again.
Place the desired amount of beans in the container of your choice.  Most cans of pre-cooked beans are 15.5 ounces.  Recipes will often call for a can of beans.
Mark your containers well.  You may want to write the name of the bean and the date.
Store in freezer until ready to use.
The conveinence of ready on demand beans will make the extra effort of pre-cooking them well worth it.
Tip:  When I am cooking a batch of beans I have learned that cooking them while I make dinner makes it seem like less of a project since I am cooking already.  I start the beans as I start dinner and I package them for the freezer after dinner.
Sources for Beans
Walmart has beans in 1 and 4 pound packages.  Bob's Red Mill has a large selection of beans in quantities of 1 – 25 pounds.  Your local grocery store or ethnic/Asian market will carry the Goya brand in 1 – 25 pounds.
You can find this post at the following linky parties:  Homeacre Hop, Simple Lives Thursday, Thrifty Thursday, and Think Tank Thursday.
3 Responses to Dried Beans