Dehydrating Beets~
Dehydrating beets and other fruits or vegetables is a great way to store them for use over the winter. It is easy and properly dried foods, stored well, can keep for up to 33 years. So let's dust off that dehydrator and give it a try.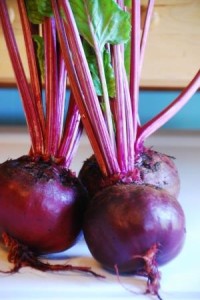 Ingredients
beets*, sliced ⅛ - ¼" thick
Instructions
Select large fresh beets.
Remove stems from beet and from leaves. Wash beets and leaves, shake off excess water from leaves, and slice beets.
Set dehydrator at 120 degrees.
Lay sliced beets and leaves on trays and place alternating in dehydrator. Allow to dry for at least 24 hours.
Beets are properly dried when they make a clanging noise when dropped on the counter. They shouldn't have a rubbery feel to them but more of a crispness. The beet greens will be very flaky and fragile.
After drying, store in an airtight container. Canning jars and plastic containers with covers work well. Keep out of light. For extra freshness you may want to add oxygen absorbers in each container.
Dehydrating foods has many benefits.  It is easy and requires a small amount of time to prepare for the dehydrator and for storage.  It also takes a very small amount of space to store.  Typically I use  128 ounce containers for storage.  Each container holds approximately 30 beets.
Dehydrated foods are considered raw and retain the nutritional components of raw foods.
Using your dehydrated fruits and vegetables gives you a great amount of versatility.  Your beet greens can be added whole to soups and stews, rehydrated to serve as greens, or powdered to add to smoothies,  pasta and other mixtures.
Your dehydrated beets can be rehydrated and cooked for beets, fried to make chips, pulverized to add to smoothies and cakes.
There is also a good amount of savings on the cost of the beets alone; approximately $1.00 per bunch.
This post has joined the following linky parties:  Homeacre Hop, Create it Thursday, Thrifty Thursday,
and  Think Tank Thursdays.  Check them out for  recipes, crafts and more.