Carrot and Quinoa Sprout Salad~
Sweet tea is a Southern classic added to everything imaginable. In this salad, it brings a delicate sweet flavor that offsets the tartness of the raisins . Delicious!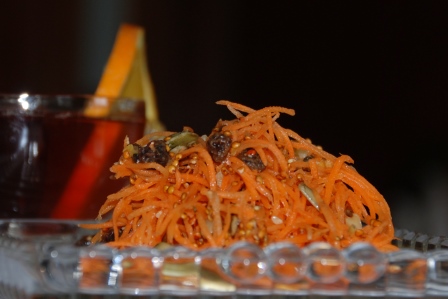 Ingredients
4 carrots*
½ cup regular tea, brewed
½ orange*, freshly squeezed for juice
2 tablespoons apple cider vinegar*
2 tablespoons olive oil
2 tablespoons Maple syrup*
½ cup raisins
½ cup raw pumpkin seeds
½ cup raw walnuts
½ cup Quinoa (Ke- nwa) sprouts
Instructions
In large bowl, grate carrots and put aside.
Brew ½ cup of tea using 1 tea bag. Pour into medium size bowl; add the juice of ½ orange, vinegar, olive oil, Maple syrup, raisins, pumpkin seeds, Walnuts, and Quinoa sprouts and mix thoroughly.
Pour mixture over carrots and toss until mixed together well.
Refrigerate for at least an hour, mixing occasionally. Serve cold.