Caribbean Corn Muffins~
These Caribbean Corn Muffins are sweet, moist and fruity with a hint of coconut and are great for breakfast or to serve with your evening meal.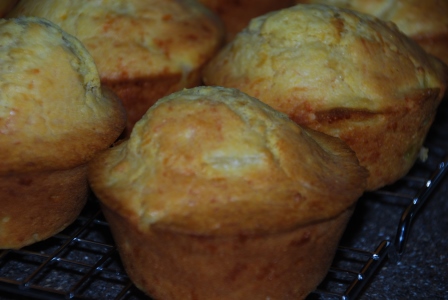 Ingredients
2½ cups all-purpose flour
1½ cups cornmeal
½ cups sugar
4 teaspoons baking powder
½ teaspoon salt
1 can (13.5 ounces) unsweetened coconut milk
2 cups cheddar cheese, grated fine
1 can (12 ounces) pineapple tidbits
4 eggs
Instructions
Preheat oven to 350 degrees
Prepare large size muffin pan with butter or cooking spray.
Place all ingredients into mixing bowl and mix lightly but well.
With a large ice cream scoop, place one scoop of batter into each muffin cup.
Bake approximately 25 minutes, until golden brown and wooden pick inserted comes out clean.
Remove from oven and set for 5 minutes, remove from pan and let cool.
In the recipe, I created a link to show you a good quality coconut milk, however this product is less expensive in the grocery store.
This post has joined the following linky parties: The Gathering Spot, Hearth and Soul Hop, Tuesdays with a Twist, and Titus 2 Tuesdays.