Butternut Squash Stir-Fry~
This recipe has the taste of a mild Thai curry. The winter squash gives it an extra rich flavor. Can be served as a side or as the meal alone.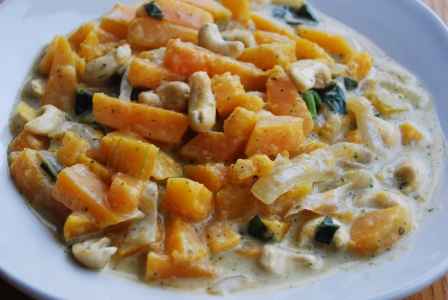 Author:
1000 Classic Recipes for Every Cook 2002
Ingredients
2 pounds butternut squash*, peeled, cut into bite size pieces
4 tablespoons peanut oil
1 onion*, cut in ½ and sliced
2 cloves of garlic*, crushed
1 teaspoon coriander*
2 tablespoons cilantro*, chopped
1 teaspoon cumin*
1 can coconut milk
½ cup cashews
If you do not like cilantro and coriander you can substitute as follows: (shown in above photo)
½ cup fresh basil*, chopped
1 teaspoon parsley*, dried
1 teaspoon cumin
Instructions
Heat wok or skillet. Then add peanut oil, butternut squash, onion and garlic. Stir and fry for about 10 minutes.
Add coriander seeds, cumin seeds and fresh cilantro or the substitute fresh basil, cumin and dried parsley.
Pour in coconut milk and let boil until butternut squash is tender, about 5 minutes. Add cashews, mix in evenly and transfer to serving dish with lid. Serve hot.
Classic Recipes for Every Cook 2002
Meat Lovers
Add chicken, approximately ½ pound to the wok or skillet along with the butternut squash and make this a complete meal for two.